about us
Evelina Bozhikova & Partners Law Office is an independent law firm based in Plovdiv, Bulgaria. The firm specialises in Corporate and Contractual law, Administrative law and taxation, EU law and litigation.
Evelina Bozhikova & Partners Law Firm provides legal assistance to companies - Bulgarian and international, and to individuals. We aim at providing professional advice and effective solutions designed to put our clients in the position to take their everyday business decisions with a proper knowledge of all legal implications.
The lawyers from our team have full litigation rights before Bulgarian courts and thus effectively protect our clients' interests before judicial and arbitral institutions in numerous cases in the field of trade, civil, labor and administrative law.
The firm has gained significant experience in advising on EU law matters and in assisting the preparation of EU Structural Funds projects and projects financed by other European programs. We prepare and actively participate in public procurement and concession procedures.
.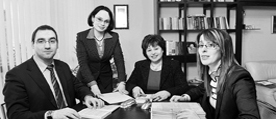 team
The legal team of the firm comprises of four lawyers - Evelina Bozhikova, Neli Simeonova, Marta Bozhikova and Hristo Mateev.
We correspond and offer legal assistance in Bulgarian, English, German and Spanish.